8 Backpacking Travel Tips for Students
Planning to head off on a backpacking trip? In the lead up to your next big adventure, it's all too easy to get caught up in the pre-trip excitement which can cause you to forget and miss even the most obvious things. Some basic backpacking tips can go a long way to ensuring that you have a hassle-free and memorable travel experience. Follow these 8 tips to make sure your student holiday is the best one yet.
1. Plan Your Trip Well In Advance
Planning and research is an important part of backpacking. No matter what your personal approach is, there are certain aspects of a trip like travel, stay and the itinerary that is best taken care of as early as possible. Planning a trip well in advance saves money and helps you know exactly where and what you are getting yourself into.
Tips for planning your student-backpacking trip well in advance:
Research online to create an itinerary that fits your budget
Best time to book domestic air travel is about 80 days in advance, while the best time to book international air travel is about 120 days in advance. Tip: Usually on Tuesdays, you might find online deals on train, flight and hotel bookings
Travel during off-seasons to save money on flight and accommodation
For the procrastinators out there, we have got you covered. Read Travel Tips For Booking Last Minute Travel Deals
2. Travel Groups Are Fun, Safe And Affordable
A shared backpacking experience is usually more fun than going solo. Travel groups have evolved over the years as people's habits and requirements have changed. It's no longer a case of only following a guide through a packed city center. Instead, it's about giving you options. Obviously you're going to want to do the 'must-do's' which a travel group will sort for you, but equally, you've got total freedom to spend your 'me time' how you please.
Travel groups usually turn out to be more affordable as you end up saving on various group discounts offered. Also, it is safer than travelling solo, while at the same time it enables you to meet tons of new people and make friends along the way.
Need information and guidance about joining a group tour, seek the assistance of a TICO registered travel agency. They will be able to help you.
3. Choose The Right Backpacking Destination For You
Travelling on a shoestring budget, you need to think about your destination carefully. Select countries that are known for their travel and tourism industry and are located closer to your home so that you save on flight tickets. Also, always check the currency exchange rate before selecting your destination. The UK, Greece, Spain, Mexico, and Cuba are just some of the places you could visit on a tight budget and yet experience life to the fullest.
4. Always Pack Light
Remember that while you're testing the weight of your backpack in the comfort of your home, it won't take very long for a heavy pack to feel uncomfortable once you get it on the trail. Leave room for all the little extras you're likely to pick up on your trip. Trust us – you will want to buy unique souvenirs/ clothes along the way, and you don't want to have to sacrifice your favourite pair of shoes to make space.
Be sure to check what you can and can't bring on a trip with you: http://www.catsa.gc.ca/whatcanibring
Here are some travel essentials that you should bring on every trip:
Navigation (phone, map, and compass)
Sun protection (sunglasses and sunscreen)
Insulation (extra clothing)
Illumination (headlamp/flashlight)
First-aid supplies
Nutrition (extra food)
Hydration (extra water)
5. Keep Your Passport, Documents And Money Safe
Never put your official documents in your pocket or in your backpack (unless they are at the very bottom). Invest in a money belt or sling pouch. Scanning copies of documents and leaving them with your family members is also a great idea. They can email them to you if you lose them. It is advisable to check with your Travel Agent and/or check the website for the Department of Foreign Affairs regarding the documents that you need to take on your backpacking trip.
6. Research Your Accommodation
Your accommodation can actually make or break your backpacking trip. Keep these few tips in mind while choosing your accommodation:
Try to be near a Canadian Consulate in case of any emergencies
Stay in or near popular tourist areas
Always check ratings and reviews before booking your accommodation
Check with your travel agent
7. Integrate Yourself With The Community
Push yourself and get out there. Talk to people, eat local and make friends. Make it a point to live their way of life. "When in Rome, do as the Romans do" because it is not the arrival but the journey and experiences that matter.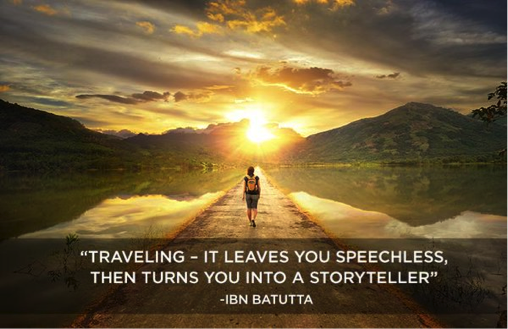 8. Be Confident In Your Travel Purchase. Book With A TICO Agent Today
Be a savvy traveler. Refer to the following helpful travel tips below:
To ensure you benefit from the consumer protection available, always book with a TICO registered agency, as you will be protected under the Ontario Travel Industry Compensation Fund. Read more here: https://www.tico.ca/consumers/overview.html
Leave a copy of your itinerary with a trusted family member or friend
Don't pack or bring any prohibited items
Don't bring a lot of cash or credit cards. Instead, bring travelers' checks, one or two credit cards, and only a small amount of cash exchanged
Know the locations of the nearest police station, hospital, and other safe places
9. Consider These Safety Travel Tips During Your Travels
Read our blog on Safety Travel Tips to make sure traveling abroad is FantasTICO!
---
Book with a TICO Registered Travel Agency
To verify if a travel agency or website is TICO registered, check our online directory.
Take the TICO Traveller Quiz to see what type of traveller you are.
Sign up to receive quarterly travel consumer protection email updates.
For more travel tips and information, visit the Smart Traveller Guide.
All travel agencies and websites located and operating in Ontario are regulated by TICO. Registered travel agencies and websites provide additional consumer protection for your travel investment that may not be available when booking with travel agencies and websites based in other countries or provinces. For more information about how TICO helps, click here.
Any questions can be directed to tico@tico.ca or 1-888-451-TICO (8426).